| | | |
| --- | --- | --- |
| | The Pete Morrison Collection | |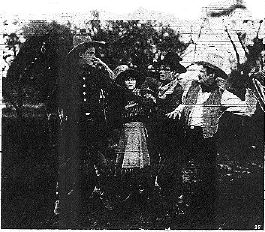 At the dawn of the 20th century, the pioneer family for whom the town of Morrison is named once again drew fame from the saddle. Brothers Pete and Chick Morrison gained nationwide fame as actors in Hollywood, making movies reminiscent of the American West their grandfather George once knew when he founded the town of their name. Two more brothers, Carl and Bob, also made their mark on the film making industry. The Pete Morrison Collection celebrates the life and accomplishments of this noteworthy splash upon the silver screen, through the film career memorabilia of the most famous member of this family. Here is the Morrison story and accounted filmography of this family.
---
Carl Morrison Filmography
---
Chick Morrison
Charles Pacific Morrison was born April 3, 1878 in Morrison. The son of Thomas Morrison, he was known as "Chick" to all who knew him. He was a familiar figure to many throughout the American West, where he often appeared in riding contests and rodeos. At Morrison he trained horses for trick and fancy riding as well as break in "outlaws," as Golden's Transcript newspaper put it. In 1909 his life changed forever when the Seilige company brought an outlaw to Morrison to film some of their famous "Bronco Billy" series of 2-reel thrillers. Morrison got the director's attention through his expert horsemanship, daring maneuvers, as well as his control over the animals, and was used as a double for the lead actor in some of the more dangerous scenes.
Morrison left Morrison that year, bound for the limelight of California. From that point onward he continuously made movies, rapidly growing to prominence in the film making industry. Soon he played leads, and his success and experience as an animal trainer, especially with horses, put him in great demand for some of the largest pictures made in his era. During his career he worked for Hal Roach Studios, the Bronco Billy Anderson and Col. Seilige Motion Picture Company, and Universal Studios.
At his time the most famous of the Morrisons in Hollywood, Chick's career met a tragic farewell on June 20, 1924. That day while filming at Hal Roach in Los Angeles, Morrison's favorite horse, Young Steamboat, fell backward upon him, killing him instantly. He was 46 years old. The horse had accompanied Morrison to Hollywood, a horse Chick had often told friends was especially wild and difficult to tame and train. It would be left to brother Pete to fulfill the Morrison family's legacy in Hollywood, but Chick Morrison's contribution will not be forgotten.
Chick Morrison Filmography
---
Pete Morrison
George D. Morrison was born August 8, 1890 in Westminster, also the son of Thomas Morrison. During his childhood he was educated in Morrison and Idaho Spring, and got his early tastes of horsemanship riding with his father during the summer. They drove cattle and sheep from the summer ranges in Middle Park and Fall River to supply beef and mutton to the mining camps of Georgetown, Idaho Springs, Nevadaville, Black Hawk and Central City. During his mid-teens Pete, as he came to be nicknamed, worked in the mining industry, with his older brothers driving in sections of the Argo Tunnel where Pete was a motorman, hoist operator, topside helper, teamster hauler, assisting several of the larger miners in the Idaho Springs area.
In the summer of 1910, Pete Morrison was an engine fireman for the Colorado Southern Railroad when he too was lured away by the luster of the Bronco Billy movies. Pete began working as a stunt man for the company, soon discovering he could make more money working in movies in 2 weeks than he could make working a month on the railroad. Pete followed Chick and the movies to California, where he became a star in Western pictures. He earned his own production out of Universal Studios and over time worked with many of the most famous actors of his time, including Tom Mix, Wallace and Noah Beery, and John Barry. After the peak of his career, Morrison was given character parts in movies including "Scarface," "Cleopatra," and "The Big Trail" where he met a young newcomer named Duke Morrison. The fading Morrison star taught the rising Morrison star a number of his moves. Not too many years thereafter Duke changed his name to the far more inconspicuous monicker of John Wayne.
In 1935 Pete Morrison left the glamor of Hollywood to settle back to his ranch near Golden which he had purchased in 1926. There his lived with his family including wife Lillian whom he married in 1912, and sons Clifford E. and Douglas K. Morrison. Pete became a deputy sheriff of the Jefferson County Sheriff's Department in 1936, and remained so for 37 years. He was also a member of the Golden Masonic Lodge, the Genesee Group and Jefferson County Sheriff's Posse. He ranched and farmed along with several outside jobs until his final retirement in the early 1960s. Pete Morrison died in Los Angeles February 5, 1973, of an abdominal aneurysm at the age of 82. However, his famed film making career will always survive.
Pete Morrison Filmography