Despite a sizable investor count and public stock offering, Magic Mountain suffered financial losses and not all of its creators' dreams came true. This is the artists' conception for the proposed Outer Space Lines ride at Magic Mountain. This ride was designed to simulate a supersonic flight in outer space. It was to be one of a number of educational and thrill rides at Magic Mountain, one of which, the Forest River Ride depicting mountain trappers, did make it to reality at the southwest part of the park. Another dream was for youngsters could be entertained at Storybook Lane, whose attractions were based on popular children's tales, while the Magic of Industry expo promoted the region's industrial achievements. Neither of those dreams, unfortunately, were ever to become reality.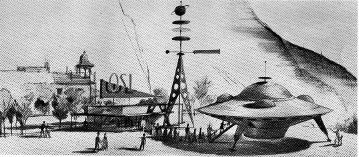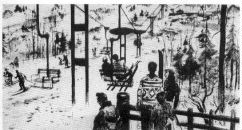 Some dreams, however, did become reality, if by taking the scenic route to fruition. Above is the artist's depiction of the Magic Mountain Ski Area, to be placed on the north side of Apex Gulch, accessible from a chairlift starting from a castle high atop the red sandstone formation next to Storybook Lane that is visible today. Magic Mountain Inc. never built this ski area on its own. However, this companion ski area, the second in North America to produce artificial snow, was actually built in 1958 at nearby Jackson Gulch to the south. The gulch was doubtless named after historic Jackson Hill overlooking Heritage Square, a landmark on the road to the gold fields discovered by George Andrew Jackson in 1859. Instead of a chairlift skiing patrons used a rope tow. The ski area was successful; unfortunately Magic Mountain was not, and it took the ski area down with it in 1960. The ski equipment was moved to the new Ski Broadmoor at Colorado Springs, a longer-lived endeavor of front range skiing.
Another plan that became an eventual reality was the race track, where visitors could get in small cars and race them on a winding track themselves. Planned in Magic Mountain at its northeast edge, Heritage Square built such a track at its southeast edge. A large carousel, the historic Eden Palais, operated at Magic Mountain, which was taken away upon its closure, and carousel riding returned to Heritage Square in 1998. A chapel was also planned for Magic Mountain on the north shores of the lake that still remains in the southern part of the park. Heritage Square moved an historic frame Lakewood schoolhouse over to what was once to be the entrance to the Fairgrounds. It has served as a wedding chapel for many years.
The Rest Of The Story & Virtual Tour Of The Dream Of Magic Mountain