"Standing high above the city it may become a symbol of what has been done…what can be done…and what is predicted…for this tremendous empire and the people who shape its destiny." These are the words Magic Mountain, Inc. wrote in 1957 when Cobb and Sutton began its odyssey into reality. And for a home the Magic Mountain creators chose a place where Magic Mountain truly could become the symbol they dreamed it would be: South Table Mountain.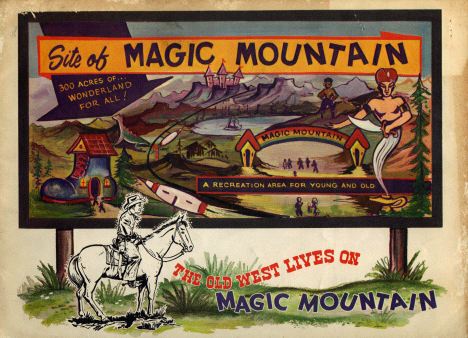 In the spring of 1957 Magic Mountain Inc. purchased 460 acres of the northern alcove of South Table Mountain and work began to design the new theme park. The first artistic concepts of Magic Mountain showed its castle standing boldly atop South Table Mountain, towering majestically over the rest of Magic Mountain and the world below. Magic Mountain was truly to be a place marveled at both for its natural scenery and its manmade spectacle. No such wonder yet awaited the people of this area, and its promoters found their locale to be truly promising.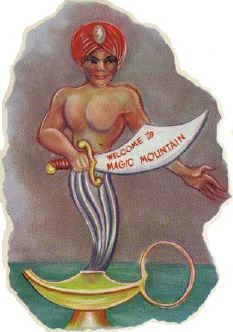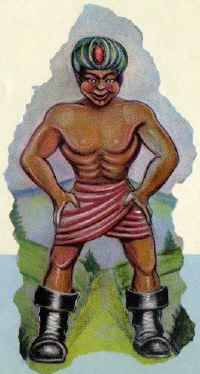 Two much larger than life genies would stand guard at Magic Mountain. One, soaring from a lamp, would welcome visitors, while the other stood as a giant gateway to the wonders within. It was planned to have a number of giant figures await children along their way inside the park.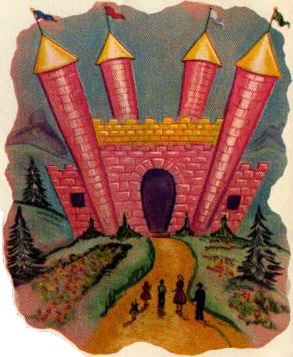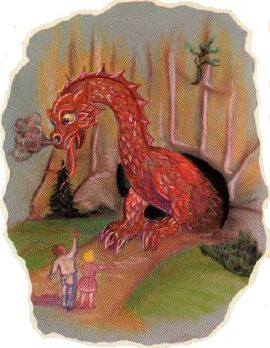 The Queen's Castle would dominate the heights of South Table Mountain, towering over all that surrounded it, with dancing fountains and an "old world court". It would be a truly dramatic spectacle for miles around, visible in the early conceptual drawing of Magic Mountain pictured above. Nearby, dragons would inhabit the lava cliffs of South Table Mountain, greeting visitors from a cave within, a fittingly fiery creature emerging from rocks forged from fire.
Unique and attractive snack stands also were to await the hungry and thirsty guests of Magic Mountain. They were based on fairy tales, exotic places and history. Here pictured above are Peter, Peter, Pumpkin, reputedly a friendly pumpkin (as opposed to maybe an unfriendly pumpkin that gave bad service!); a "massive polar bear and tuxedo clad penguins, furnishing cool delights on a hot summer day" (with an apparently well-paid warmly clad concessionaire!); and a most interesting concession, the train, which served food to patrons via a miniature train that circled around to their stools, "with locomotive, whistle and engineer complete".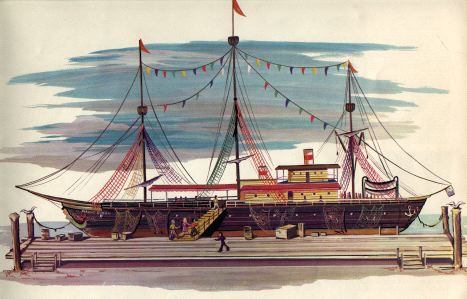 Magic Mountain was not just to have snack stands, but great restaurants as well, such as the Fish House Restaurant. Anchored in the lake, this 3-masted floating restaurant of meticulous detail would serve seafood for all patrons who climbed aboard.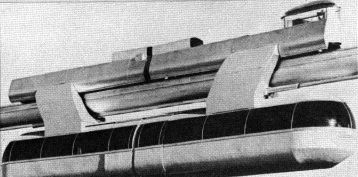 Futuristic travel was high on Magic Mountain's wish list. Proposed in these formative stages was Colorado's first monorail. While Magic Mountain purported to be a place where one could see the Old West, it was also a place where the past and present could meet the future as well.
---
Copyright © 1999-2011 by Richard J. Gardner